Looking to sell more stuff on your website?
If you've been online for any period of time, you've likely heard about the importance of landing pages.
But after a little digging, you'll soon find that landing pages is a deep deep rabbit hole. So deep, that you reach information overload pretty quickly.
And instead of implementing everything, you do nothing.
Below, you'll find a carefully curated list of the 30 best resources I've found on landing pages.
It starts with a broad overview, breaks landing pages down to their most critical elements, then gets into the nitty gritty of testing and analytics.
Like last weeks post on becoming a better blogger, this guide is not intended to be consumed in a day, but rather for you to bookmark and reference as you go through your landing page journey.
There are guides that detail how companies like SeoMoz improved their sales by 52% to add an extra million dollars to their yearly revenue.
Beginner's Guides
Beginner's Guide to Landing Pages
This guide to landing pages put out by Kissmetrics is the perfect overview of the head space you need to be in when planning your landing page.
It starts by talking about your goals, your calls to action, and removing any unncessary elements to help drive your traffic from viewers to customers (or leads, or subscribers, depending on your goals)
It also gives you screen shots of landing pages that are achieving their goals, so you can see what others are doing too.
13 Landing Page Tricks That Increase Conversions
Dtelepathy uses the "tricks" format to break down landing page basics into bite sized nuggets of information.
Some tricks include:


Write Epic Headlines


Show Happy People


and Keep it Sexy


just to name a few. The tips are solid, and they're a good alternative if you're pressed for time. However, I would not recommend using a "tricks" post as the place where you gleam your entire landing page education from.
7 Tips to Increase Landing Page Conversions
Search Engine Journal gives you more solid landing page tips, but this time they're curated by Alec Baldwin (or at least pictures of Alec Baldwin)
This guide is also a little more visual than the last, showing "good" and "not so good" examples of different principals they're trying to illustrate (like long sign up forms vs short)
Copy
The perfect landing page pt.2 [Copy]
This is a video I produced for my series "Inside The Mind" that gives an overview of the perfect landing page copy.
In it you'll learn some basic guidelines on


How to Structure Your Copy


What To Include


What To Leave Out


and Common Conversion Killers


You'll also learn the importance of subheaders, testimonials and risk reversals. And Mario from Super Mario Brothers makes a guest appearance.
The 7 Point Checklist For Powerful Landing Page Copy
Hubspot has compiled a beautiful checklist of landing page must haves in your copy.
Some of these items include


Use Action Oriented Language


Use Value Oriented Language


Use Reader Keywords


Write in the Second Person


…and more. The checklist stresses the importance of catching your readers attention within the first 3 seconds, otherwise they're hitting the back button, and you've lost a potential lead or sale.
The Perfect Landing Page Copy (Designed to Sell Anything)
This quite literally one of several landing page copy templates that come with the premium wordpress plugin Premise.
The copy here not only explains what to do, but demonstrates it throughout the copy, pulling you the reader in line by line until you reach the call to action.
8 Quick Tips For Writing Bullet Points People Actually Want to Read
It's a Twitterized world. We're just living in it.


Treat  Bullet Points Like Headlines


Communicate Benefits Clearly & Quickly


"Ninja" Your Way Into Readers Minds


Bullet points are
very
 important for getting your key points across and making your copy more
scannable
.
They deserve special attention.
Writing Killer Conversion Copy with Joanna Wiebe of CopyHackers.com [Audio]
This interview with Joanna Wiebe of Copyhackers.com is very insightful and playful view of "copywriting"
"Copywriting is using words, typography, punctuation and images to communicate your messages in ways that will engage your visitors"
Joanna does a very good job of keeping a balanced view of copy writing, and looks at copy as a part of an overall visual hierarchy , not the end all be all for your sales.
The Perfect Lead Conversion Outline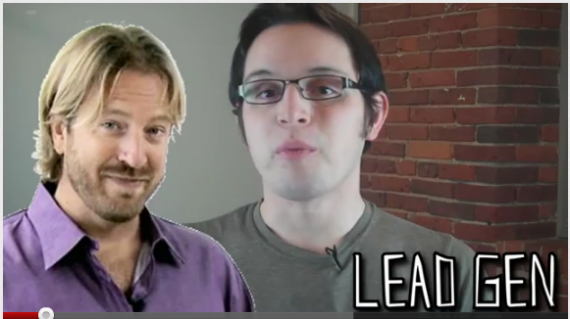 This lead conversion outline was taught to me by Frank Kern.
It is designed to simultaneously attract qualified buyers, and repel the hype seekers and bargain hunters.
This method is not focused on "getting a ton of subscribers" but rather people who WAY more likely to take action on the things you want them to.
Design
The Perfect Landing Page Pt. 1 [Design]
This is another episode of Inside The Mind that deals specifically with landing page design.
You'll learn about color schemes, layout, and "trust symbols."
You'll also learn about different design techniques that are commonly used to compel users to the call to action.
Somewhere, Superficial, & So Much More: Designing for Conversion Experiences
I thought this article on Thinkvitamin.com was absolutely brilliant for two reasons;


Landing pages are generally an afterthought.


We very rarely think about the user's experience when we want them to take an action.


However, this article talks about landing page user experience as being baked into your design from day 1.
If you're planning a redesign at any point in the near future, read this article. It considers your users in every aspect of the design, and because of that gets you thinking about optimizing nearly every aspect of your website for conversions.
20 Best Designed Price Comparison Tables
This roundup of price comparison tables comes from our very own Nick Tart.
If you're selling something that requires multiple price points, Nick shows you the best of the best pricing tables, and breaks down why each of them works.
Great if you need some inspiration.
22 Creative Landing Page Designs – A Showcase, Critique, and Optimization Discussion
Another great article if you're looking for landing page design inspiration.
Oli Gardner of Unbounce goes through 22 really well designed landing pages and talks about what he likes, what he'd do differently, and what he'd like to test.
If you see elements of your own designs in these, it's like getting an experts advice for free.
Images
How Images Improve – Or Destroy – Conversion Rates
Derek talks about how Apple was able to sell the Macbook Air with a simple image, how Chemistry.com improved their signups with a simple look, and how a Baby's gaze can get you to read just about anything.
This article shows you how to use images with a purpose and should be read before you ever
Deciding When Graphics Will Help (and When They Won't)
This article gives very specific examples of using images to better communicate with users.
They show how Bestbuy.com easily communicates the difference between the cameras they sell, how landlords who "share the view" on craigslist make their apartments more attractive, and how Citigroup showing a simple smile and handshake make their whole experience a little more personable.
Great short read if you're trying to figure out how to enhance your landing page by using images.
F-Shaped Pattern For Reading Web Content
Not so much about images, but rather the F Shaped Pattern eye tracking studies show how readers view a web page.
When you use your images strategically using this information, you have a much better shot at drawing your readers eyes to exactly the places you want them to go.
Human Photos Double Your Conversion Rates
People prefer looking at people over objects.
This article gives two case studies that show incredible lifts in conversion rates.
Video
The Benefits of Using Video on Landing Pages
If you're the type that has an easier time explaining a concept than you do writing it out, you should consider doing video landing pages.
"Video should be used on your landing pages whenever possible. It provides a passive engagement medium where visitors can experience your message with very little effort."
Think about it, people have been watching Tv since the middle of the 20th century, so if they stick around for a video on your landing page, your message has longer to sink in.
You also have more tools at your disposal than just the written word.
Making Video Accountable
This study by eyeview digital shows that video on landing pages can lift conversions by 80%.
In the whitepaper, they talk about how to use video on your landing pages to make a personal connection with your viewers, and how to measure whether on not it's an effective use of your time.
Bonus: Case study of Hotels.com using personalized videos to increase bookings by 30%
How We Made $1 Million for SeoMoz– With One Landing Page And A Few Emails
Conversion-Rate-Experts.com walk through step by step their revisions with SeoMoz.
It's incredible the amount of customer and company research they did before ever creating a design.
In their research, they found that Rand Fishkin had a much easier time explaining the companies main offering in a video than they could with static text or images.
They also debunk the "keep it short for short's" sake myth.
 A/B Testing
A Primer on A/B Testing
A/B testing is exactly what it sounds like. Testing one version of a page against another.
However, it's very easy to give importance to things that don't matter, and not give enough importance to things that do.
This article from A List Apart is the perfect starting place if you're totally uninitiated to the concept of A/B testing.
Behind the scenes: A/B Testing Part 3: Finalé
If you're a A/B Testing Skeptic, this article is for you.
Yes it's true that when you're designing a landing page, you'd like your intuition to be 100% on that color opt-in button, or that headline choice, but wouldn't it be nice to have more conversions? 
When you are torn between two choices, test them both, because in the end you still win. This is a lesson the guys at 37 signals learned once they stopped whining about A/B testing and just started doing it.
A/B test case study: how two magical words increased conversion rate by 28%
"It's Free."
These two magical words added next to the "Sign Up Now" button on Soocial's website improved conversion by 28%.
Seems simple, but even the designers didn't think it would be the "right" choice.
Which goes to show if you're not A/B testing, you could be losing out.
Practical Guide to Controlled Experiments on the Web:Listen to Your Customers not to the HiPPO
"What's the HiPPO?" you ask.
It's the Highest Paid Person's Opinion.
This practical guide to controlled experiments on the web does read like a science white paper, but it's meant to instill confidence in yourself and your customer's opinions.
If you're considering hiring someone to work on your landing pages, this is an absolute must read.
Google Website Optimizer 101—A quick-start guide to conversion rate optimization
" If you read this entire article, you'll know more about Conversion Rate Optimization (CRO) than 99% of web marketers!"
This is not an untrue statement, I learned A TON more about CRO (and Google Website Optimizer) after reading this article.
For instance;
22. Don't test the small stuff. Test big, bold changes. This has two advantages:


You'll get the results quicker (it's a statistics thing).


You're more likely to achieve improvements.


This may seem obvious, but when you're getting wrapped up in things like button color, it's hard to remember there are bigger fish to fry.
Google Website Optimizer Case Study: Daily Burn, 20%+ Improvement
Once you've gone through all of the tips for CRO, let's look at what conversion rate optimization in action looks like.
Tim Ferris, Author of "The Four Hour Work Week" and "The 4 Hour Body" walks us through split tests that were done for one of the sites he's invested in, DailyBurn.com
Seeing this stuff in action really helps it all to sink in.
Metrics
How Successful is Your Landing Page? The 3 Key Metrics You Need to Know
Long story short…


Your Conversion Rate matters, even a 1% boost in sales lead to big money


Pay attention to your home page bounce rate, you could be losing a ton of leads


Know your lead generation costs, otherwise you'll have an incredibly difficult time scaling your business.


These are the most important metrics to pay attention to because they have the most effect on your botto
Misc.
Landing Pages that Convert
Really this is another round up of tips that talk about landing pages that convert, but it adds a few unique perspectives to the mix, like


Lead with Finished Story Benefits


Be more credible


Make Your Offer/Value Incredibly Clear


Conversion Killers
10 Little Known Factors that Affect Your Conversion Rate
To wrap up this roundup, we're going to end with the different ways you can tank your conversion rates.
This article from Kissmetrics shows 10 common things people do thinking it's doing them good, when really they're shooting themselves in the foot.
Less Is More: How We Used Crazy Egg To Boost Our Own Conversions
Conversion Rates Experts show how they used click tracking heatmaps by Crazy Egg to remove unnecessary features from their primary subscriber page.
Note: You should probably do this too. 
And there you have it, 30 of the best resources I've found on landing page optimization. If there's anything you'd like to add, or a resource you'd like to see added to the list, please let us know in the comments below and I'll be sure to put it in